A van drove into a busy tourist district
At about 5pm local time on Thursday, a white Fiat van veered off the road and into a crowd outside the Plaça de Catalunya metro station. The van continued down the pedestrian concourse in Las Ramblas, a popular area in the heart of Barcelona, for more than 500 metres while crashing into pedestrians until it hit a newspaper kiosk.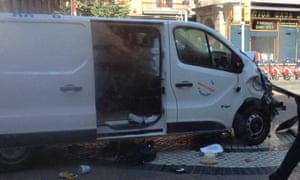 Witnesses spoke of panic and seeing people covered in blood. Several pushchairs could be seen abandoned at the side of the street.
A photograph released by the public broadcaster RTVE showed people lying on the ground in the street, apparently being helped by police and others.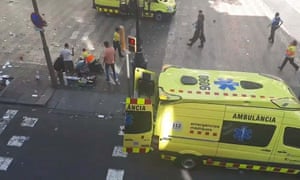 The driver fled the scene and a second van is found
The driver of the vehicle fled on foot leaving the smashed van at the foot of a mosaic by artist Joan Miro.
At about 6.30pm in the town of Vic, 80km north of Barcelona, police find a second van. Police say the van was hired at the same time as the Fiat used in the attack.
Catalan police tweeted: "We can't confirm a motive for the events that have taken place in Barcelona, but we have activated the protocol used to respond to attacks."
There have been two arrests. Neither are the van driver, who is still being sought. Police believe the pair were linked to the Barcelona attack and the blast in Alcanar.
About 100 people were injured and 15 are in serious condition. The injured include 26 French, four Australians, three Dutch, and three Greeks and one Chinese. At least 18 nationalities were affected, including Venezuela, Ireland, Peru and Algeria, according to Spain's civil protection agency.
A popular tourist district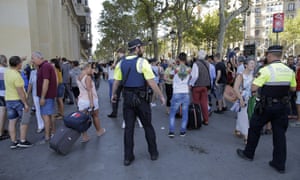 The area of Las Ramblas comprises a long pedestrian concourse made up of a series of ramblas, flanked on either side by carriageways for vehicles. It is one of the city's favourite tourist destinations. People walk down the wide, pedestrianised path in the centre of the street, but cars can travel on either side.
The boulevard also forms the border between Barcelona's Gothic Quarter and the El Raval neighbourhood, both part of the historic old city and considered tourist hotspots.
Attacks in Europe
Up to now Spain had been spared the recent extremist violence that has occurred in France, Belgium, Germany and the UK.
But it was hit by what is still Europe's deadliest jihadi attack in March 2004, when bombs exploded on commuter trains in Madrid, killing 191 people in an attack claimed by al-Qaida-inspired extremists.
Vehicles have been prominently used across Europe in extremist attacks since July 2016, with more than 100 people killed in London, Nice, Stockholm and Berlin.